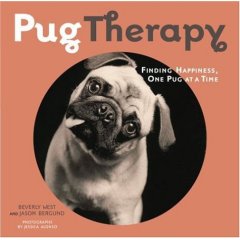 Pug Therapy, I'd say, goes by the pug motto, Multum in Parvo, which roughly translates to, "A lot in a little." It's a fairly small sized book, but inside, it's packed with lots of really cute pictures to brighten up any Pug lover's day. It contains lots of pictures of pugs in various places, doing various "pug" things. If you read through it, you'll see, "Hey! this picture is like my pug!" probably at least once. That's a good thing. It shows how pugs are universal, and how they can really be lots of fun or get you through some tough times.
I'd say this book would make a great gift to any pug lover, and it's fairly reasonably priced, only about $10 at amazon (click the image to go there).
Anyway, to promote the Urban Pug Forums, we're giving away a Gizmo and Gadget autographed copy of the book, along with a P is for Pug T-shirt and a Pug bumper sticker to the winners of a contest.We'll have first and second prizes. First place gets an autographed copy of Pug Therapy plus a T-Shirt or similarly priced product, and second place gets a bumper sticker of your choice.To win the prizes, you have to go over to the urban pug forums, and post some original "pug related" poetry. It can be simple, as long as it's creative. We'll judge based on how closely you reflect the "pug spirit"Entries must be posted in the "Pug Poetry" section of the forum, and they must be posted on or before November 1, 2006.
Good Luck! — Oh, and PLEASE let everyone know about this contest!
technorati tags:pug+poetry+contest, pug+therapy, pug+book, i+love+pugs